If you're planning a visit to Sri Lanka, you'll be happy to know that while it can be a little chaotic and overcrowded, it is relatively easy to navigate as English is widely spoken.
There are, however, a few tips you should keep in mind during your visit so that you keep yourself safe and don't overspend, which can unfortunately happen to those who are unsuspecting.

Tip #1
Don't drink the water – take a reusable water bottle with a purifier. It's very hot, so you'll find yourself needing to drink a lot of water and you want to be safe to avoid getting sick.
Tip #2
Choose the local food options over Western food; it's very cheap and very good, plus you'll get to taste many incredible local dishes.
Tip #3
Sri Lanka does not really have a huge drinking or nightlife culture, so don't expect this to be a party trip as nightlife options are very limited.
Tip #4
You can hire a tuk-tuk for around $20USD per day, and they're one of the cheaper, and convenient, ways to get around.
Tip #5
The cheapest way to get to the airport is the airport bus, which only costs 30 rupees ($0.20USD).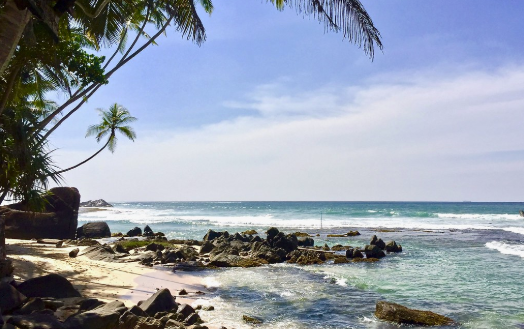 Tip #6
Where possible, use the train as opposed to hiring a car service. It's the cheapest mode of transport and a great way to see the countryside. It's recommended that you book the train in advance as tickets can't be booked in person at the station less than four days before departure.
Tip #7
When visiting Sigiriya, arrive for the opening time of 8am to avoid lines and crowds. Any later and you'll likely not have a great experience due to the large numbers of people.
Tip #8
All of the temples require you to remove your socks and shoes even if they are outdoors, so be prepared to do so even if you may not see any signs.
Tip #9
If you are planning on staying in hostels, note that while cheap, they are very basic so don't go in with high expectations.
Tip #10
Don't overspend on accommodation as there are many cheap options. Breakfast with a private room and air conditioning will only cost you around $15USD.
Sri Lanka is a wonderful and vibrant place to visit, and with these tips in mind you'll have a fantastic time without blowing your budget unnecessarily.